http://www.youtube.com/watch?v=SBClImpnfAg
Haha, it's that surreal..............
forgot I had to keep a full tank or lose fueling at the end of the track, that's mostly why the super-low mph. First tracking of non-intercooled MP90. 7.5 inch slicks, stock MAF, no filter, 68mm TB, 3 inch exhaust and she's ready to fly
*right about now*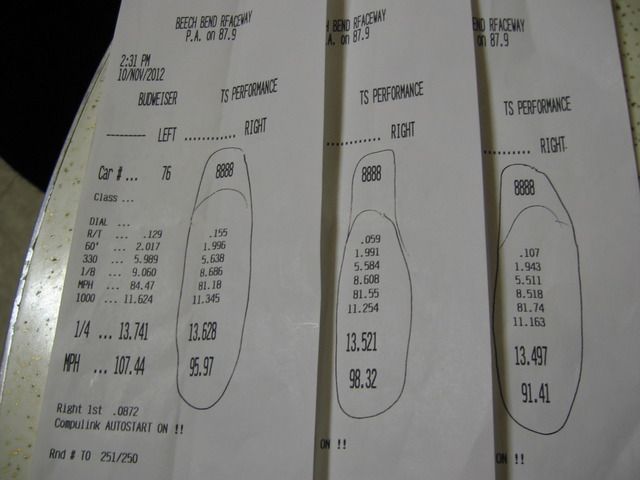 Beech Bend, 11-10-12, 75 Degrees F.
__________________
1999 GLS MP90 supercharged / 2003 GL MP62 supercharged / 2004 GLS stock
Magnuson MP90 / TOG's / 3 in. Magnaflow exhaust / MSD ignition / LS1 MAF / Racetronix pump / HP Tuners / TCE 68mm TB / 36 lb Inj
= Best track time: 12.951 @ 104.48, 1.839 60 ft. (Beech Bend Raceway Park, 11-23-13), 50 Deg. F
http://www.youtube.com/watch?v=hpVYZPbpPzk